Stay home and binge!
The current COVID19 pandemic has people staying home and flocking to their screens. Soccer fans can use the time to catch up on some great club soccer documentaries. We've gathered five binge-worthy shows that will help pass the time with ease.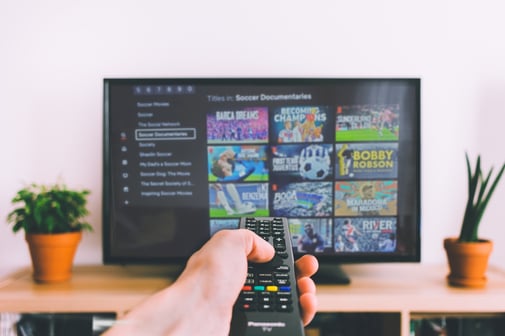 First Team: Juventus (2018) Netflix (6 Episodes)
A deep-dive into the 2017/18 pre-CR7 Juventus of Allegri. The show captures how La Vecchia Signora sways between her domestic dominance and European glory. Securing the league and chasing that elusive Champions League title in what seemed to be Buffon's final season in Turin, offers plenty of entertainment. Some interesting interviews with Allegri and Juve-legend del Piero round out a solid look into one of the world's biggest clubs.

All or Nothing: Manchester City (2018) Amazon Prime (8 episodes)

Same season different league: This doc takes us along City's record breaking PL season (and some Champion's League heartache). While City was a juggernaut on the pitch, the show is most impressive behind the scenes. Paying $12 million to the Sky Blues, Amazon made full use of its access showcasing City's pristine practice and work facilities as well as intimate insights into Pep Guardiola's coaching approach.

Inside Borussia Dortmund (2019) Amazon Prime (4 episodes)

From the Yellow Wall to an exciting young stock of talents - think Pulisic, Sancho and now Haaland - Borussia Dortmund is one of the more entertaining soccer clubs around. Following the German giant for the latter half of their futile title challenge in 2018/19, the shows real strength is in the historic footage that for the most part hasn't been available to international audiences. It's a great way to learn not only about the roots of one of the world's most passionately supported clubs but about Germany's unique fan culture in general.

Take Us Home (2019) Amazon Prime (6 episodes)
The gladiator narrating a soccer doc? Sign me up! Lifelong Leeds fan Russel Crowe takes us through Leeds push to return to glory. Once one of the most successful (and most despised) teams in Englands, Leeds has fallen on hard times in recent years. The show depicts well how the passionate fan base struggles between hope amidst injunction of fresh blood in the club's management and the despair that comes with being trapped in the grueling Championship. A great plus are a few soundbites from notoriously taciturn coaching legend Marcelo Bielsa during a tumultuous campaign.
Sunderland 'Til I Die (2018) Netflix (8 episodes)
Maybe still the gold standard in soccer documentaries, "Sunderland 'Til I Die" is soccer drama of the highest standard. Where other documentaries trip over trying too hard to portray a certain image, this documentary puts it all on display; the good, the bad and the ugly. This show excels in telling the club's tale through a relatable cast of talking heads and combines it with some stellar documentary making. 100% relatable, never dull, Sunderland 'Til I Die" is must-see TV.