So much to do at the LaLiga Zone Tour!

Whether you just like to play or to complete a soccer parkour, the LaLiga Zone Tour wants to see you bring your skills to the pitch. Don't have any idea what that means? Read on to learn about the full list of on-field activities: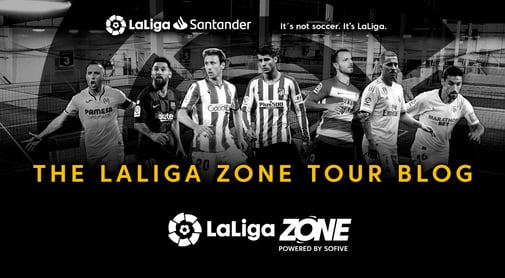 Goal Wall
Put it in the Upper 90! Or the lower. Test your shooting capabilities and see how many times you can hit the marks. You'll need precision and power to curl it into bend.

Crossbar Challenge
More difficult than it looks: Hitting the crossbar is usually something you don't shoot for though practicing it regularly, can greatly increase your aim. Are you going for the chip or try to hit it straight on?

Soccer Tennis
This fun variation of the tennis game is a popular warm up game throughout the world and a staple at many academies and pro clubs. Don't let the ball bounce more than once on your side and that you can get it back over the net into your opponent's field. Whether you use your feet, chest and head, soccer tennis will challenge you all around, but of course, no hands!

Header Challenge
Corners, set pieces, crosses: Soccer can turn into an aerial battle. Compare yourself to some of LaLiga's highest leapers and see whether you can reach the same lofty heights and touch the ball with your head.
Open Play
You just want to go out and play? No problem! Four fields are reserved for just that, open play. With a varying degree of difficulty (or age) assigned to each field you decide whether you just want to kick the ball around a bit or play in a more competitive environment. Team up with other LaLiga fans and play a fast paced, fun game of max. five minutes or until one team scores two goals (whichever comes first) and switch. Do you got next?



The best players will have a chance to win cool swag and of course every participant enters in our sweepstakes to win a trip to Spain for a LaLiga match of the 2020/21 season!
Get your tickets now!

Dates:
4/5: Sofive Columbia, MD (near Baltimore)
4/11: Sofive Meadowlands, NJ
4/26: Sofive Elkins Park, PA (near Philadelphia)
5/3: Sofive Brooklyn, NY
5/10: Sofive Rockville, MD (near Washington D.C.)