The Corona pandemic has brick and mortar businesses looking for new ways to engage their customer base online. With its facilities temporarily shut down, Sofive aimed to re-engage its playing community with a FIFA20 tournament. But running digital campaigns can be tricky. Lackluster participation or toxic communication achieve the opposite of what companies yearn for. Therefore, Sofive created a communal framework for the tournament. Dedication and combining in-house assets with widely available tools, allowed the campaign to produce meaningful social interactions and diversion. The concept is now being expanded to partner organizations.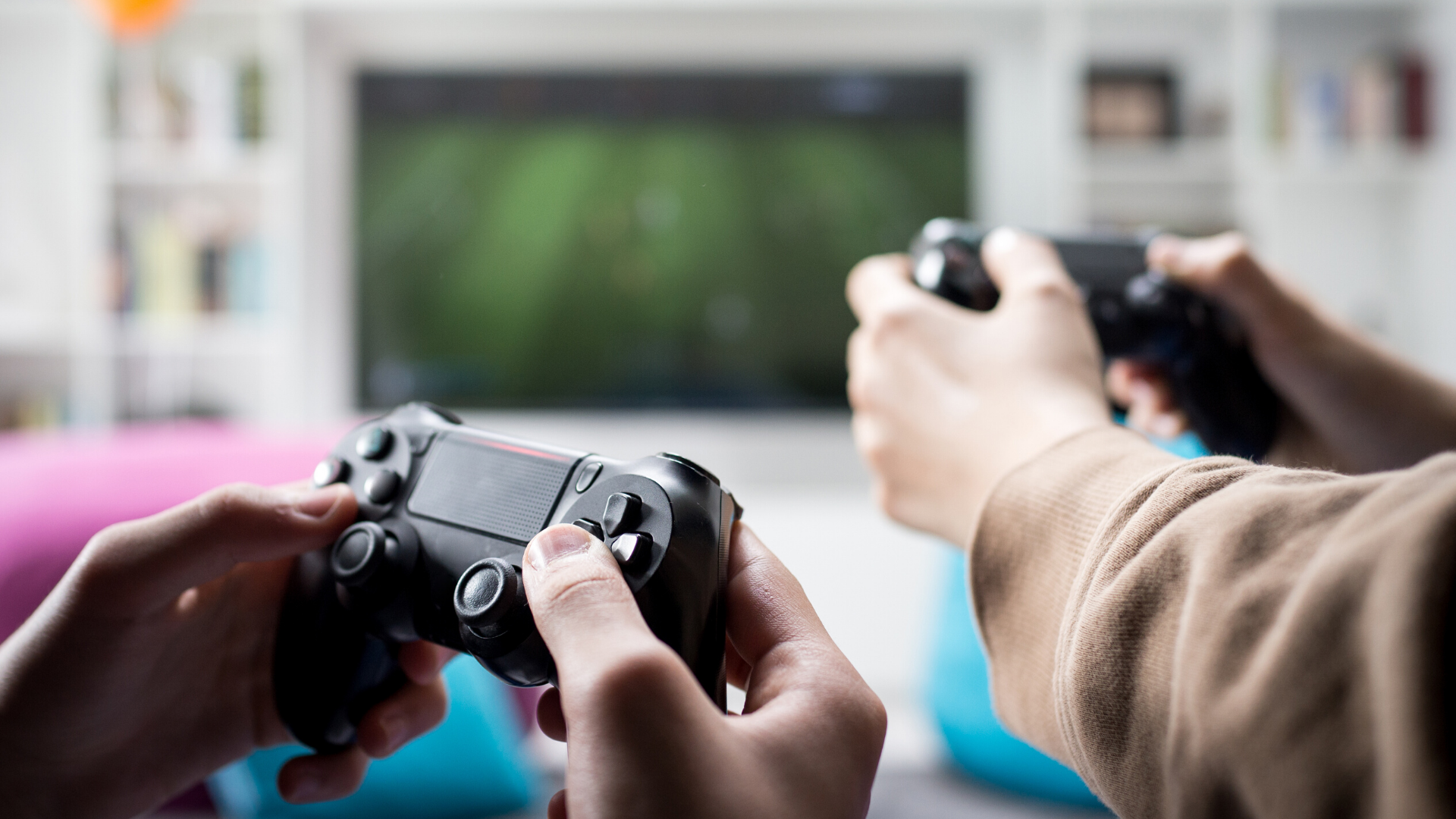 Every challenge is an opportunity. So the folks at Sofive Soccer Centers put their heads together and contemplated, like many others, what they could contribute to ease the hardship in these challenging times. What to do with a soccer-thirsty community that can't play soccer in the centers? Host a digital soccer tournament! The interest in the popular soccer simulation FIFA20 was evident, having run successful tournaments in the past at its Rockville, MD and Brooklyn facilities. Added bonus: Organizing an online tournament would allow to incorporate soccer fans across five centers and four states for the first time.
To be successful, the campaign followed three simple principles:
Be fast→ Customers were looking for diversion now, not in three weeks.
Be authentic → Build on what you know and try to leverage your core competences. Expand the brand's voice, don't break it.
Be communicative → Whether to share information, receive feedback or connect, providing efficient ways to communicate is key.
The idea was received extremely well. More than 700 people pre-registered within three days on a quickly assembled landing page. To further foster a communal experience for players, the organizers expanded the website with automatically updated rankings, live stats, and a donation function. The updates continued throughout the tournament. This allowed for play to commence timely; achieving progress, not perfection. It also created a deeper sense of community, with organizers announcing changes live and implementing external feedback. Players weren't only gaming in a cookie-cutter online campaign, they were witnesses and contributors to their tournament.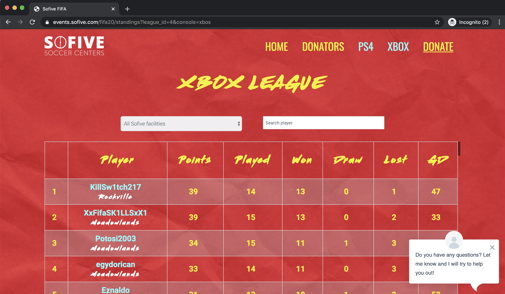 All players were informed daily about their fixtures via email. To bundle communication around the matches in the evening, Discord, a web-based community platform, functioned as the tournament's communication hub. Players could now interact directly with the organizers and each other, post clips of their best goals, set up friendly games or simply share their experience. More than 10,000 sent messages attest to a truly engaged community. This form of communication, was quick, transparent and enabled gamers to take ownership.
The direct communication empowered players to contribute to the success of the tournament by encouraging them to self-organize on the platform.
To sweeten the deal, Sofive leveraged its good relationship with the pro soccer community, e.g. New York Red Bulls, PSG, D.C. United, ICC and Philadelphia Union and within days, secured prizes for the final 16 players. In addition to $3,200 worth of field time made available by Sofive, the aforementioned organizations offered match tickets, camp vouchers, team jerseys as well as memorabilia such as a signed Luisão shirt or Mario Goetze autographs.

Furthermore, the tournament had a serious purpose. With the centers being momentarily closed, many part time workers such as referees, front desk staff, or baristas that are a vital part of creating the community on the ground, are temporarily out of work. Offering a diversion to its playing community was therefore a means to offer some relief to its temporary staff, as well. After only three days donations had passed the $1,000 mark, a great start to the continuing fundraising efforts.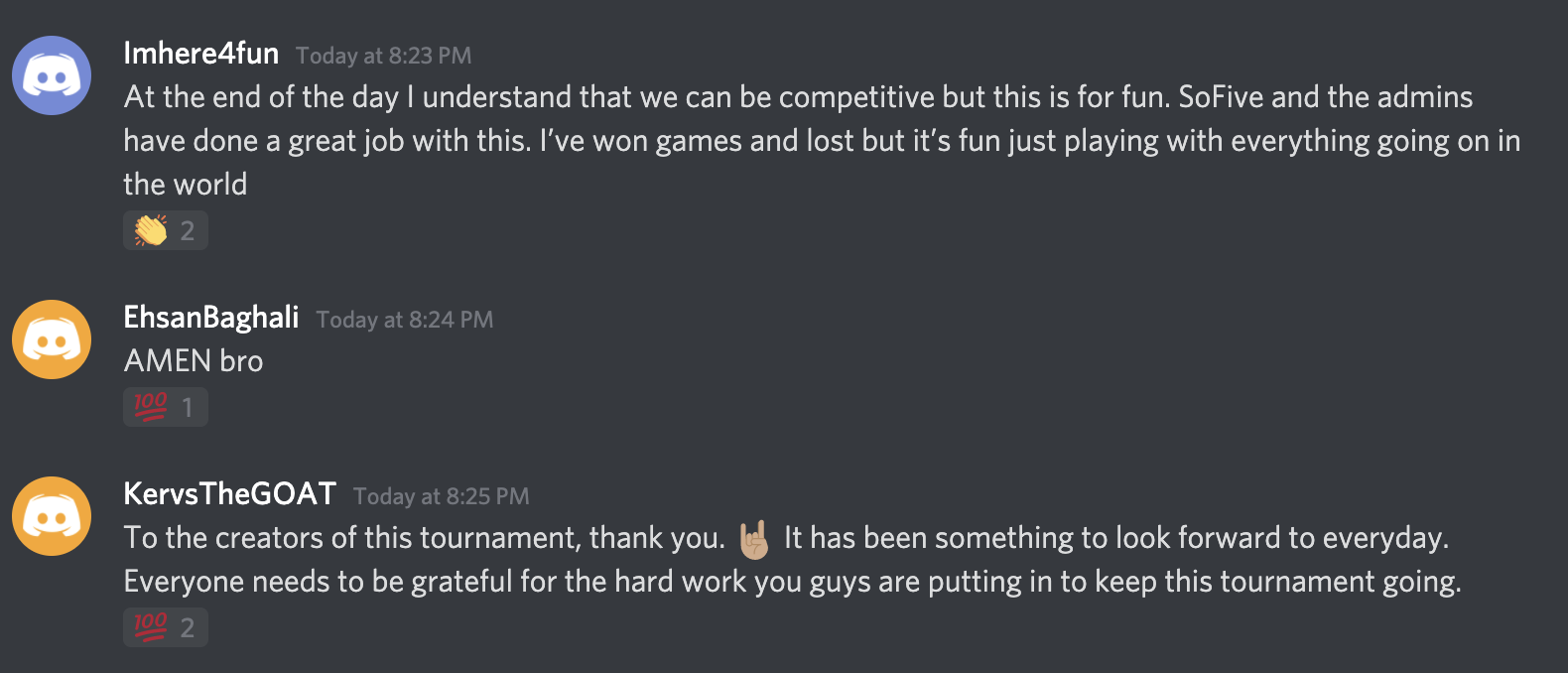 The overwhelmingly positive feedback proves that the tournament was a resounding success. So much so that the setup is now being adopted by Sofive for future tournaments with their youth partner clubs, bringing along new ideas and opportunities. During the inaugural campaign, hundreds of players had gathered every evening for seven days, playing 2,382 matches, scoring +12,000 goals. Many flocked into the chat room an hour before kickoff, in eager anticipation of their two upcoming games. Win or lose, the 7:00pm kick-off provided moments of certainty in uncertain times. It enlarged each player's community while social distancing has drastically reduced interactions outside family and friends. To Sofive, the tournament manifested new capabilities and allowed them to positively impact and grow their community. For everyone involved, it was a much needed win.