Sofive Soccer Centers is making tremendous waves in the Northeast area with state-of-the-art facilities; boasting great amenities such as FIFA Futsal regulated fields, the Halftime bar & cafe, free WiFi, comfortable lounges and streaming nonstop soccer. Sofive has been fortunate enough to host training sessions, youth camps and special events from the likes of Paris Saint-Germain, Gatorade, New York Red Bulls, New York City FC, Newell's Old Boys, Philadelphia Union, Borussia Dortmund, Bundesliga and many, many more!
Currently, New York Red Bulls, NYCFC and Philadelphia Union are running camps at various Sofive facilities. We took a moment away from all the action to briefly interview one of the NYCFC coaches, Kevin Dorn, about his role and the impact these camps have on the future athletes:
Interview with NYCFC's Kevin Dorn
How'd you get started in coaching with New York City FC –
"I grew up playing all of my life and had a deep love for the sport; so I sought out an internship with the New York Cosmos in college. I transitioned in to a full-time role after graduation and then got picked up with NYCFC after the Cosmos were unfortunately liquidated. Learning more about sports business and coaching has been a very rewarding experience so far."
What's it like working with these young athletes and what advice would you give the parents –
"Working with kids is fantastic, it is such a privilege and seeing the development is really rewarding. I would just encourage patience and allowing their athlete to find their own way. Every athlete is different, they progress at different rates, and you just have to remain positive, encouraging and trust us to do what's best to help them every step of the way."
If there's one thing a young athlete takes away from these sessions, what do you hope it is –
"Just have fun playing the beautiful game and loving sports. Being active is so important so if I can inspire that passion in them then that means a lot for me."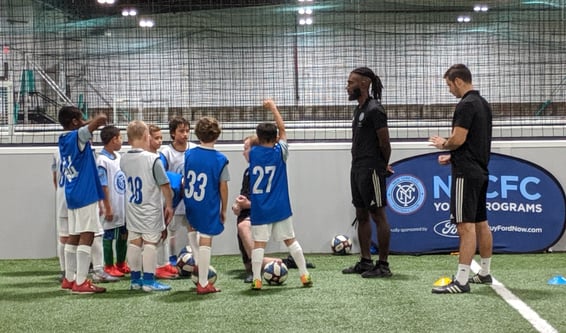 NYCFC Winter Training Programs offer players the opportunity to continue their development throughout the winter season at Sofive Brooklyn. Sessions are designed to maximize each players time and contact with the ball, developing confident and creative players. The 4-week program is designed to provide players with the individual technical abilities to prepare throughout the "off-season".
Session Breakdown (90 minutes)
Skill Zone (15 Minutes) – Every player with a ball. Maximizing time and touches. Players will insert their own creativity, creating confidence on the ball.
Technical/Tactical Activities (45 Minutes) – Player-Centered activities designed to build the game from individual play to group shape and tactics. Focusing on concepts of play unique to New York City Football Club style of play.
Final Match (30 Minutes) – Building upon all topics and learning objectives from daily activities. Playing in groups that expand all topics of play.
Are you a local Sofive athlete? Tell us about your experience! Also, don't forget to use our video replay technology to share your highlights and training sessions with colleagues, friends, & family.