What is the LaLiga Zone Tour?
This is your shot at a once-in-a-lifetime experience! LaLiga is giving devoted fans the exclusive chance to experience the magic of LaLiga in their local community. Tickets available now!
The LaLiga Zone Tour will stop at each center one day only, and offer three fun-filled sessions of games and experiences. So lace up your indoor soccer boots, test your skills on the parkour or in open play against others, lift the LaLiga trophy, winning cool LaLiga swag, test your LaLiga knowledge at the quiz booth and enter the LaLiga Zone sweepstakes for a chance to win a trip to Spain to see your favorite team live!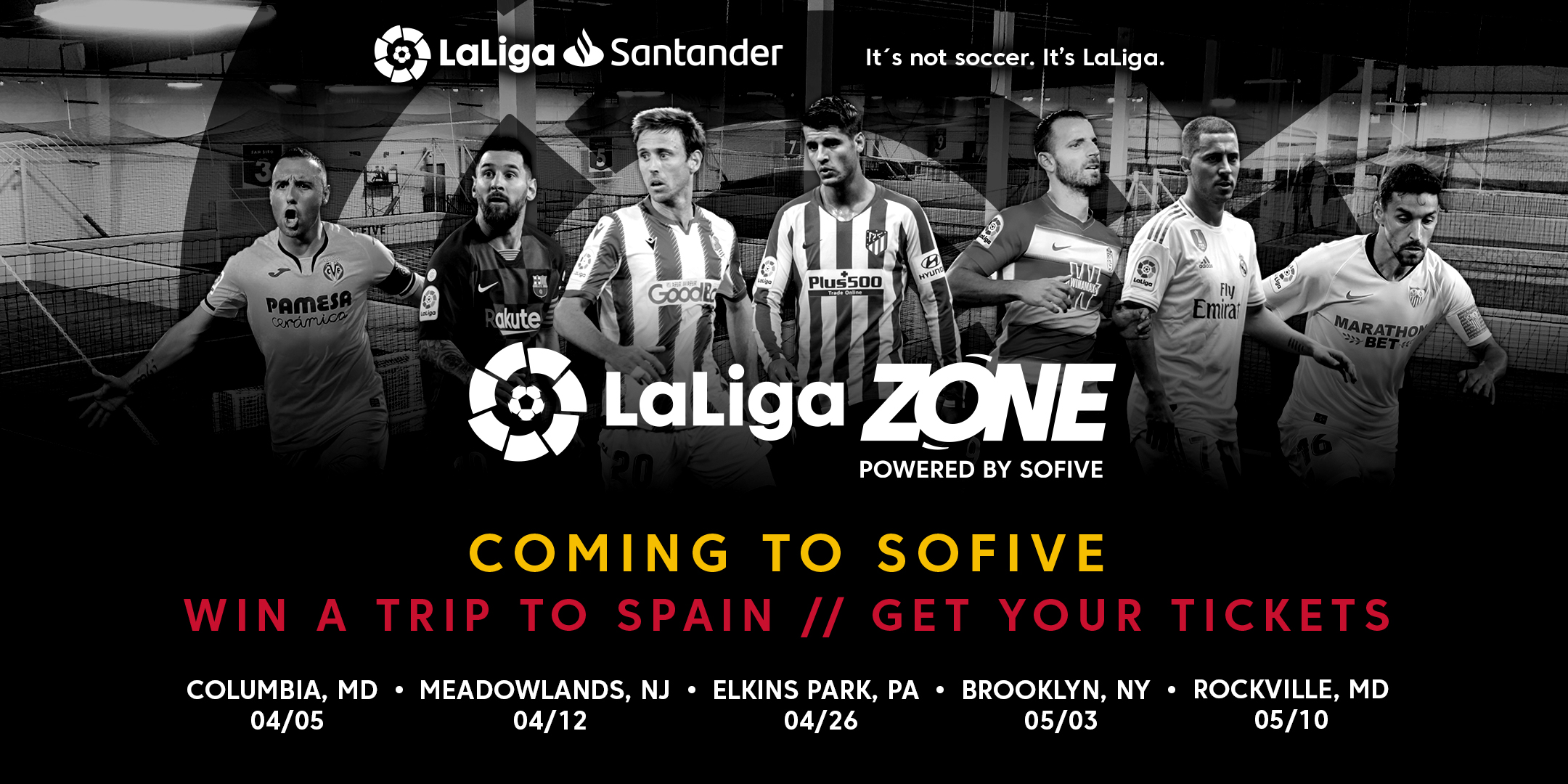 LaLiga Zone Tour at Sofive Details:

Sofive will be streaming all the LaLiga games in the lounge while an action-packed agenda is happening on the pitch. Even better, you have the chance of a lifetime to win an amazing trip for two to watch your favorite LaLiga team in Spain - flight, accommodation and tickets included!

In the Lounge:

Learn about one of the most historic leagues and put your LaLiga knowledge to the test to win cool prizes! We will have the LaLiga league trophy on display in all of its glory, and you can get a selfie with it!

On the Pitch:

- Soccer Tennis
- Crossbar Challenge
- 5v5 Open Play
- All fields are open for games and fun with a chance to get awesome LaLiga swag!

Sweepstakes:

Every ticket enters the LaLiga Zone Sweepstakes at each center for a trip for two to a LaLiga match of your favorite team in the 2020/21 season. Five centers, five winners, for a total of ten lucky fans! We will even include flights and accommodation! The lucky winners will be announced by Jimmy Conrad on LaLiga Zone show the following week.
See full terms

TICKETS ARE ON SALE NOW!

Act fast - get your tickets as soon as possible; as there is very limited availability for this event. And until Feb 15th, save $5 with the early bird special code "laligazone". Don't miss out on your chance to get the full LaLiga experience with Sofive!

Dates:
4/5: Sofive Columbia, MD (near Baltimore)
4/12: Sofive Meadowlands, NJ
4/26: Sofive Elkins Park, PA (near Philadelphia)
5/3: Sofive Brooklyn, NY
5/10: Sofive Rockville, MD (near Washington D.C.)